litters
All are for

(compatible with all versions). POTL, adopted. Chose a pet? Click here to apply! Newest litters are at the top from now on :]
Updated Jul. 25

Locket (f)* Rio (m) Lola (f) Turkey (m) Year (m)
All of these have black eyelids. Locket, Rio, Lola and Turkey have alley spots. All have pufftails.

Dober (m) Trick (m)* Foxglove (f) Stamp (f) Teflon (m)
Aww. I reallly want to keep Trick, so plz write a sentence or something to make me feel bad about wanting needing to keep him haha. He has slightly larger feet than a regular coon mixie. Stamp and Teflon have white eyelids, and Foxglove has a face stripe and a chest patch.

Cilantro (m) Honey (m) Threshold (m) Roxanne (f) Element (m)
I expected more chi ears, but that's alright. Threshold is really cute, and looks great as an adult, too. All have poofy feet except for Element. He has dark blue eyes, what a cutie.

Tang (f) Foil (m) Blossom (f) Trash (m) Flake (f)
What a diverse bunch! Their mom's a cali with a persian body, and their dad's a white persian with a pink nose, like Tang and Foil have. Trash has a meezer personality. Blossom is the cutest thing, she prances around a lot. <3 Flake has dark grey eyelids.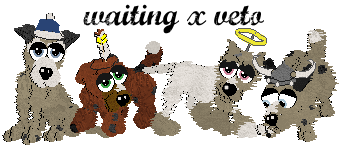 Feign (f) Punch (f) Rover (m) Thistle (f)
Punch and Thistle are both minis with pufftails and tail tips. Rover trots, as seen on pic. Punch has mutt ears. All look good as adults, I checked.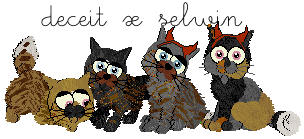 Dwarf (m) Please (f) Spell (f) Shady (f)
First litter of the reopening :) All of these have pufftails except Spell, but Please is the only one without a white tail tip. Dwarf is absolutely adorable, he has a face stripe that isn't much visible on the picture.

Predatory (f)
Supercomputer (f)
Illinoise (f)
Pulaski (m)
Ypsilanti (f)
So I've been listening to too much Sufjan Stevens lately, so feel free to change the crazy names hehe. I adore this litter though!! Predatory and Illinoise have alley spots, Supercomputer has r.b. ears. Only one pufftail, Illinoise obviously :P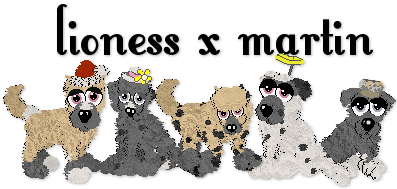 Beatrice (f)
Honneur (m)
Decatur (m)
Nara (m)
Crevasse (f)
There have been so many pretty mixies all over the pc lately, it's great! I love this pair. A lot of puffy feet and fuzzy coats. Crevasse has a pufftail that you can't see in the picture and she's mini. Actually all of them have pufftails! Nara stole my heart, she's just adorable. All look good as adults, I checked!

Source (f) Plastic (m) Mix (m) Folklore (m) Flightless (m)
Some adorable rb mixies! Mix has a persian body, you'd think it looks awkward but it suits him to a t! All have black eyelids, and Folklore is regular sized as an adult, it's just that his eyes are smaller as a kitten for some odd reason. Hm.
© forever to scribble